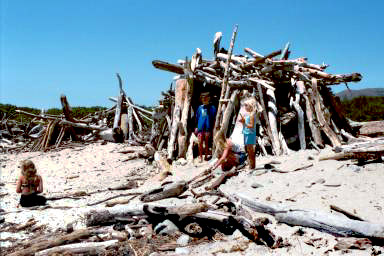 …hard to find,
but worth the effort
While Big Sur's beaches hardly resemble the vast stretches of sun-baked sand that dot Southern California's easily-accessible coastline, they offer the visitor a wide variety of recreational possibilities.
Even during the summer, Big Sur's beaches are subject to generally cool weather. Sunny days are sporadic as a blanket of seasonal fog often hugs the coastline, dropping the temperature in the process. To be prepared, bring a change of warm clothes. Also, bring a pair of sturdy shoes. Big Sur's beaches require at least a short hike.
USA Today readers chose Pfeiffer Beach to be in the Top 10 Beaches in California
Private property and Big Sur's steep terrain makes most of its coastline inaccessible to the public. Fortunately for the visitor, however, several State Park and U.S. Forest Service beaches are open to the public all year. The following beaches are recommended due to easy access and breath-taking scenery:



Download our local Big Sur Visitors Guide in Adobe PDF.
Andrew Molera State Park

(831) 667-1112 Located 23 miles south of Carmel, Andrew Molera State Park is the largest state park on the Big Sur Coast. A wide, scenic, mile-long path leads to a sandy beach that is sheltered from the wind by a large bluff to the north. The path itself is as much a delight as the beach, taking you through a meadow filled with wildflowers and sycamore trees, offering fine views of the coastal mountain range to the east. The path parallels the Big Sur River, which enters the sea adjacent to Molera's beach.

Aerial photos of Andrew Molera State Park

Andrew Molera State Park is famous with bird watchers and the Ventana Wildlife Society has their office there. From this office several birding studies of the area are conducted in which the public is invited to participate.Click Here to view a bird checklist of the Andrew Molera State Park are

Garrapata State Beach
(831) 624-4909 The park has two miles of beach front, with coastal hiking and a 50-foot climb to a beautiful view of the Pacific. The park offers diverse coastal vegetation with trails running from ocean beaches into dense redwood groves. The park also features outstanding coastal headlands at Soberanes Point. Sea lions, harbor seals and sea otters frequent the coastal waters and California gray whales pass close by during their yearly migration.

Aerial photos of Garrapata State Beach

Garrapata State Beach Brochure (PDF)

Mill Creek
Mill Creek is a Day Use Area. No overnight camping. There is no fee at this site. Aerial photographs of Mill Creek.
Jade Cove
Jade Cove provides outstanding opportunities for rock-hounding and diving for jade. The beach is a designated hang-glider site. Jade Cove is a day use area. No overnight camping.
Aerial photographs of Jade Cove
Julia Pfeiffer Burns State Park
(831) 667-1112 No beach access. This state park is named after Julia Pfeiffer Burns, a well respected pioneer woman in the Big Sur country. The park stretches from the Big Sur coastline into nearby 3,000-foot ridges. It features redwood, tan oak, madrone, chaparral, and an 80-foot waterfall that drops from granite cliffs into the ocean from the Overlook Trail. A panoramic view of the ocean and miles of rugged coastline is available from the higher elevations along the trails east of Highway 1.
Location-Directions: The park is 37 miles south of Carmel on Highway 1, and 12 miles south of Pfeiffer Big Sur.
Aerial photos of JP Burns State Park.
Partington Cove
Partington Cove holds a special piece of Big Sur history. Much of the tan bark and lumber was shipped out of this cove. There is a tunnel that goes through the ridgeline that opens into a beautiful cove which still has parts of the shipping tools bolted to the rocks. In addition, hiking inland from Partington Cove into Partington Canyon is a great hike! And the Tan Bark Trail is also a great and exhilerating climb. Aerial photographs of Partington Cove
Pfeiffer Beach
Pfeiffer Beach is located in the heart of Big Sur and is one of the favorite beachs in all of Big Sur. Pfeiffer Beach is a Day Use Area, no overnight camping. Hours 9:00 AM – 8:00 PM 7 days a week. $10.00 entrance fee. Aerial photographs of Pfeiffer Beach
Plaskett Creek
From a large parking lot across the Highway One from Plaskett Creek Campground, a well-built stairway leads to a crescent-shaped beach that's protected, like Andrew Molera State Park's beach, from the wind by bluffs.

Sand Dollar offers visitors the widest expanse of sand along the Big Sur Coast, and possibly the mildest weather. Standing on the beach and looking northeast, towering 5,155-foot Cone Peak is visible. For an interesting side trip, visit Jade Cove, which is located two miles south of Sand Dollar Beach. Big Sur's south coast is famous for its jade reserves, and Jade Cove is a popular spot for beachcombers and rockhounds. Aerial photographs of Plaskett Creek

Point Lobos
(831) 624-4909 Point Lobos contains headlands, coves and rolling meadows. The offshore area forms one of the richest underwater habitats in the world popular with divers. Wildlife includes seals, sea lions, sea otters and migrating gray whales (from December to May). Thousands of seabirds also make the reserve their home. Hiking trails follow the shoreline and lead to hidden coves. The area used to be the home of a turn-of -the-century whaling and abalone industry. A small cabin from that era still remains on Whaler's Cove, near Carmel.
Location-Directions
On the central coast of California in Monterey County. The entrance is located three miles south of Carmel on Highway 1.
Aerial Photographs and Virtual Panoramas available on their website.
Sand Dollar Beach
Sand Dollar Beach is one of the most beautiful and scenic beachs on the Big Sur coast. Sand Dollar Beach is the longest strand of sandy beach along the Big Sur coast. Great surfing, exploring and fishing are here within walking distance of Plaskett Creek campground, located directly across Hwy. 1.
Sand Dollar Beach is a Day Use Area, no overnight camping.
Hours: 9:00 a.m. – 8:00 p.m / 7 days
$10.00 entrance fee per vehicle. Campers staying at Kirk Creek and Plaskett Creek, Ponderosa and Nacimiento Campgrounds still receive FREE DAY USE at Sand Dollar Beach.
Aerial Photos of Sand Dollar State Beach
Willow Creek
Willow Creek Picnic Area and Beach. This rocky Big Sur beach is a favore for surfers, photographers and anglers. Willow Creek is a Day Use Area, no overnight camping. There is no fee at this site. Aerial photographs of Willow Creek.


Download our local Big Sur Visitors Guide in Adobe PDF.